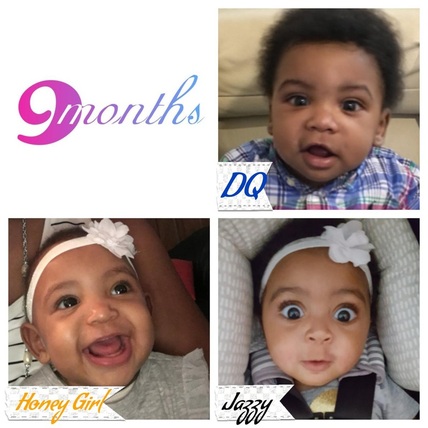 Time really does fly.

They'll be grown before you know it.

They grow like weeds.


Admittedly, I let these so called anecdotes flow in one ear and out the other. Only to discover now, nine months into parenthood, that everyone was right. Monet and I blinked our eyes, got a few intermittent nights of sleep, and woke up to Ariel scoot-crawling across the floor.

Another day or two, and both Ariel and Jaslyn were throwing out "Dada" and "Mama" left and right. David, while not quite mobile yet, is so big and solid that he's no longer on the premature growth chart, and the girls aren't far behind!

That said, we apologize for the 3PIPs being off the radar for the past few months. We got lost in the new parent shuffle and when I say time has flown, I mean that we've been moving at light speed since Christmas. It's a little more complicated to keep the blog updated compared to Facebook and other social media platforms, but we nonetheless appreciate everyone keeping us in your thoughts, prayers, and bookmark list. Even now as I sneak a few minutes to get this post out, I'm holding Jaslyn while I type, Monet is giving David a nebulizer treatment, Ariel is pitching a fit because she's tired of the activity walker, I probably should have flipped over the steak cooking in the kitchen about ten minutes ago, our dog Lebron went to bed early on a baby strike, and I'm the only actually watching the episode of Yo Gabba Gabba!(which is actually starting to grow on me. SAD!).

It's been an incredibly challenging, busy, and action packed first nine months. It's almost unreal to even consider that we're closing in on one year so quickly. But we wouldn't have been able to make it this far, let alone maintain the slightest bit of our sanity, without an outpouring of support from our friends, neighbors, co-workers, and our amazing family. Especially our awesome family!Thank you for checking in on us. We'll be sure to keep the site update more frequently.

Stay Tuned!