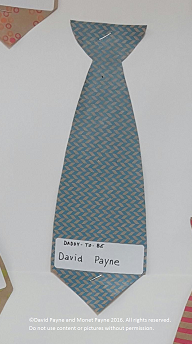 Sitting at a red light the other day on my way home from work, I found myself contemplating the nature of transitioning. How simply and effortlessly you can transition out of one stage and into another at the blink of an eye. The even flow of life can lull us to sleep and peace at times, distracting from the realization that circumstances can and are apt to change suddenly, violently, and often.

How, at some point, Monet and I will travel to the hospital as a couple and return back home as a family. How 85 mph and the left lane of the I-95 seems normal, but in a few months 75 mph on the right sounds like a much better idea.

This past Father's Day, I woke up to several unread texts and calls. Friends and family that were kept in the loop about our triplets sent over congratulations and well wishes. And while it should be a simple enough gesture to understand, I could not help shaking just how incongruous it all felt.

I'm used to picking up Father's day cards much too late and struggling to get them out in the mail just in the nick of time. I'm accustomed to ordering last second gifts on Amazon and relying on Prime delivery to get them to their destination to mask my procrastination. And now, just like that, I'm part of the fraternity now. Cards and emails at my desk, presents on our front door, packages in the mail. Well wishers around almost every corner and that sudden bewilderment when I'm just about to correct someone who says "Happy Father's Day", only to realize that, yup, I am some little ones' pappy. And while I certainly don't mean to sound ungrateful, as a fairly private and unassuming person, it definitely took a minute to get accustomed to the attention.

There's a car commercial where a young couple is leaving the hospital with their (one!) baby. The voiceover talks about how, just a few hours ago, they were "Jeff and Susan". Now, after being kicked out of the hospital, they're suddenly "Mom and Dad". Mild hilarity ensues, as the dad drives super slow and shows off the cars features by trying to be super protective driving his new family home. This is literally what came to my mind every single time that I heard, "Happy Father's day" this week.

I think I mentioned it before, where it was a little unnerving to realize that all the universal knowledge, wisdom, and secrets of all of my paternal ancestors wasn't immediately downloaded into my cerebellum upon finding out that we were pregnant ( I'm sure I read somewhere that was supposed to happen). But the truth is, I'm ok with the fact that there's no (official) father's manual. It means that these paternal instincts are not digitally downloaded to new fathers. It means that the men and fathers before me had to figure it out too. And I can follow and borrow from their examples because I know and trust that they were forged by trial and error. It means that I don't have to be flawless or perfect, or all-knowing. It means that I really can do this, because it's already been done before.