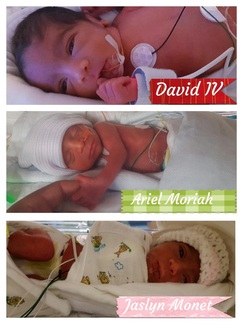 Note: We cannot thank you all enough for the well wishes, blessings, prayers, and continued support of our family's blog. It's been a hectic two weeks following the birth of the trips' on 8/12/16, and we're still trying to catch up (i.e. sleep). Please bear with us, as we endeavor to keep the site updated on a more consistent basis.

Enjoy!

The First 48

The plan was simple. Leave the office shortly after noon for a quick check up on the babies. We'd get a few "attaboys" from the Doctor for doing such a great job and wait patiently for his staff to complete the requisite paperwork, admitting us back into the hospital for the home stretch of this pregnancy.

As of Thursday, 8/11/16, we'd eclipsed 30 weeks, the 4th major timeline goal set by our specialist. While keeping the babies in utero for as long as possible would have been ideal, we were well aware that birthing multiples meant expecting the unexpected and planning for the unknown. Months prior, we began monitoring and adjusting Monet's schedule as much as possible as her school year wound down, with the emphasis on transitioning from the 1st to 2nd trimesters sans incident. After getting through a few rough patches (where I unsuccessfully tried to force Monet into a pseudo bed rest campaign) we shifted priorities towards making it beyond 24 weeks. Through our research, we knew that infants born at 24 weeks or earlier show a markedly less survival rate than those born beyond, and so we trudged on with faith and caution as our travelling companions. Soon, that objective was completed and we raced towards our next checkpoint. Her belly continued to swell as we marked progress by small miracles; Monet feeling the constant movement of the triplets, discovering the times of day when they were most active, and seeing small flickers of movements beneath her skin. They were slowly, and surely, beginning to outgrow the only home that they have ever known.

If you recall, Monet was placed on hospital bed rest as the 25th week wound down; a conservative move to ensure that we progressed to 28 weeks. And so, with new hurdles on the horizon, we adjusted. Friends and family helped keep Monet's spirits afloat during the week while I spent each weekend, Friday – Sunday, by her side. This approach worked so well that we were released shortly thereafter, to bed rest at home for weeks 28 – 29, with a follow-up on the 30th week to (most likely) be readmitted back to the hospital for the remainder of the pregnancy.

And so there we were in our specialist's office, on the 30th week, receiving kudos and "attaboys" for how well the babies were doing. So well in fact, said our Doctor, that we were being sent home for more bed rest for the next couple of weeks, with a follow-up appointment in a week or two.

My heart dropped.

My face followed suit.

Now, those who know me are well aware of my inability to hide emotions on my face. My thoughts and true feelings are sometimes (i.e. ALWAYS) visible and, as such, I stay as far away from Poker as possible. Involuntarily, my face scrunched into contortion somewhere between confusion, disgust, and disbelief. I promise, Gary Coleman would have been proud of my non-verbals. And while what happened next may seem to be a little too perfect, I promise to you that I am not embellishing…

Our specialist looked over his glasses as we stared each other down for a few achingly long moments. His steely gaze hardened by years of practice and my...whatever it was I had on my face, stood at a stalemate. In the right corner, a highly respected and recommended dual board certified physician in Maternal-Fetal and OB/GYN with over 40 years of practicing experience. And in this corner, a stumpy, bald guy with 5 years of medical viewership to his credit (3 seasons of SCRUBS and 2 steamy seasons of GREY's ANATOMY). Clearly at an impasse, his right hand signaled defeat as he made the first move! Maybe he was intrigued. Maybe he was curious to hear whatever foolishness I was clearly holding at bay. Regardless, he slowly took off his glasses and replied, "I take it from your look that you aren't comfortable with that course of action."

Here was my chance! I dove in headfirst to plead my case. I talked about how well we had done staying the course of the last few months, meeting each timeline goal. I spoke about how Monet responded extremely well to the bed rest at the hospital. I voiced concerns over living an hour away and having to utilize major roadways just to get to the hospital. How, if she did go into labor, the resulting C section would separate our family, as Monet would have to stay at whichever hospital we would manage to make it to while the babies would be transported to Orlando! I pulled out and reached for everything in my bag of tricks to drive home how much I felt that returning to the hospital was not only a good idea, but the best idea. In my innermost being, truly, I believed that this was the right move and the only move at this time.

And he listened. Our doctor listened patiently and earnestly while this rambling fool of a husband squawked on and on. He allowed me to cite reason after reason and unsubstantiated point after point. He entertained my inelegant conjecture, fueled only by paper thin "what ifs" and "maybes". But he listened. And, all jokes aside, it took a special man to do so. We could, literally, talk about all of his professional credentials for days on end. We could wax poetically on and on about how his confidence, success, and years of study would render my input obsolete. But what made our doctor unique, was that he actually took the time to listen. Regardless of how unfounded, uneducated, or ill-informed my opinions may have been; He cared enough to listen. And, after carefully reviewing his notes, he agreed to readmit us into the hospital. No less than two hours later, Monet placed her feet up in the hospital bed and finally took a rest.

And 30 minutes later after that, her contractions began.