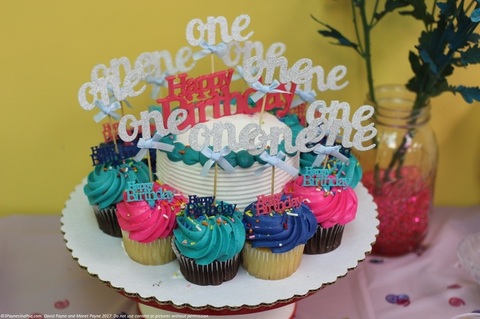 We did it.
One whole year later. We finally made it.
Our 3 Little P's celebrated their first birthday on Saturday, August 12, 2017 @ 1 pm and the kids had a blast. Despite trying to keep the party small and intimate, we were blessed beyond measure to be joined by so many friends and family, many of whom came out of town and made the sacrifices to be there for the triplets' first birthday.
But, if I'm completely honest, I was absolutely terrified as we headed into the party, thinking of the endless things that we needed to have done. Cleaning the house for company, next to last second shopping, last second Amazon Prime purchases, finalizing something resembling an actual agenda, and setting aside time to make it over to the venue and decorate. All this, during the babies' first week at a new preschool and Monet's first few days at a new school.
*sheesh*
All I could see in front of us was a never ending horizon of struggle. There was a literally a ton that we needed to get done and every passing moment was a reminder that we didn't have enough time. We put one foot in front of the other and put our hands to the plow. We stayed up late making sure that whatever absolutely needed to get done was. And what couldn't be done, just wasn't.
I know that most of you probably expected and are more interested to hear about the party. And I understand that. Monet has a great piece of going on what happened and we have several fantastic pics that our friends Dennis and Jared took for us throughout the afternoon. But I wanted to take a moment out and acknowledge, if I'm being honest, just how
hard
this was to pull off.
Parenting is difficult and it is trying and it is
hard
. And parenting multiples sometimes feels like a Master Class in wtfnow-ness. We had a difficult week that week, knowing what would be required of us physically, mentally, and spiritually. Because, quite honestly, you sometimes don't have much left in your physical, mental, or spiritual tanks; left trying to push the last 80 miles on fumes and adrenaline. There's no lesson plan for this. No YouTube walk-through. It's a test and, more often than not, there's no room or time for failure.
And then the magic happens. Our parents babysit the kids just a little bit longer. Family and friends started coming in and help out in any way that they could. Transporting presents and supplies, helping us decorate, serving cake, and anything and everything else that they could give of themselves. And suddenly more family comes in to help decorate. And then your best friends from school show up with their kids and you miraculously have more hands on deck as they occupy your three little angles so you can keep on keeping on. And then family and friends that you weren't even expecting show up, with smiles and well wishes and your heart swells with joy because you know that they're there just to see your little precious little babies.
That Saturday, we were reminded yet again that it takes a village to raise a child. And that our children, well, they'll need a community. That said, we could not be more appreciative and grateful for the community that embraces us and that helped us bring the triplets' first birthday to fruition. From eternally giving parents, sweet and loving neighbors, genuine Co-workers that are friends first and colleagues second, and family that remembers what it means to be family...we both thank and love you all.
You can check out the party pictures in the updated
Peek at the Paynes
, page, but none of it would have been possible without the support of of the lovely Angie Taylor, the owner of Speech Path of Brevard. Angie has been a blessing to our family over the past several years and she definitely came through in the clutch for us once again. Angie allowed us to use her therapy offices for the party and we could not have prayed for a better venue.
WE LOVE YOU, ANGIE!!! THANK YOU FOR EVERYTHING!