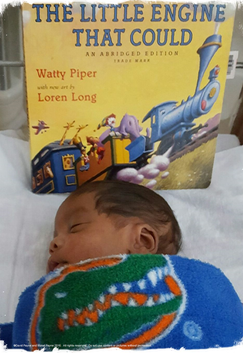 70,560 minutes.
1176 hours.
Or 49 days.
Regardless of how you break it down, it was time for David to come home. It's 2:30 AM and I'm being kept awake by a plethora of constant beeps, blips, and whistles of a thousand monitors. By now, I recognize them all by heart. A chime for an empty feeding tube notification, intermittent beeps for a dip in SpO2, and high pitched alarms for bradychardia (heart rates that dip below 60 BPM). You'd be amazed at what you pick up standing on the sidelines. So much in fact, that I've taken to providing incident reports on the other babies in David's room when the nurses return from their lunch breaks. I may or may not have an honorary male nurse badge. Just saying.
As most of you already know, Ariel and Jaslyn have been home for several days now, while David was left behind, waiting for the green light. What we didn't initially disclose to everyone, was that shortly after birth David was affected by an intestinal issue that would require him to stop feeding for two weeks. As a result, he would have to relearn how to feed, how to take a bottle, and how to digest food all over again. While his sisters gained weight and mastered their bottle feeding, David - born heavier and larger than his sisters - fell behind.
And so here we are, at 49 days with David refusing to sleep on my chest and battling the hiccups. His discharge was delayed yet again after we initially believed that he would be going home on today (Friday, 9/30). Disappointed? Absolutely. But also encouraged. And content. And thankful.
Encouraged because what's one more day when we've already conquered 49? I'm content, because there's scarce a thing more valuable in this world than the health of your child. Thankful, that the hospital was not in a rush to push him out, leaving his mother and I to deal with these issues on our own.

Just yesterday, David and I watched on as one of his neighbors, almost half his size, was discharged to leave. While being much smaller physically than David, his vital signs were exceptional and he passed every exit test that the hospital placed him through. Before leaving, I prayed with the mother and the grandmother over our sons, for protection against this world that they will soon inherit and for continued good health. I would be lying if I said that a piece of my heart didn't break at seeing that son leave before mine. But what's another day, right?

Later that day, I returned to find the vacant spot in the room filled. Another day and another young life. We had new neighbors. As I stepped in, the pale hue of UV lights washed over the room and over my thoughts. This new baby was undergoing treatment to stave off jaundice, just like David did shortly after being born, 49 days ago. I had the pleasure of meeting his beautiful family, a friendly couple with older children. Over the course of the next 24 hours his dad and I (we're now "Baby Bros") traded stories and jokes. It might seem like a trivial thing, but that kind of friendship and kind interaction between parents in the long nights and mornings at the NICU is medicine for the soul. Our conversations kept my mind off the time as hours flew by and we still had not heard anything regarding David's discharge. And he and his family were the first ones that I celebrated with when I finally got the doctor's call and discharge notes.

We were so excited that I couldn't stop for a moment and take the moment in fully while scrambling to leave the hospital as quickly as possible. But looking back now, 24 hours later, we couldn't be more blessed. Healthy babies, loving nurses, attentive doctors, new friends; everyone that we encountered with over the past 2 months have played a part in this story that we'll never forget. But I would be completely remiss if this chapter wasn't closed off right.

Not so simply put, Thank you. To every loving nurse, every befriended mother and father, every caring physician, every praying member of the maintenance and cafeteria staff, and to every smiling greeter/security guard that recognized us day after day after day. Thank you for being a part of this story. You have our gratitude and gratefulness as we hope that you will one day see these words of appreciation. Thank you for each playing a part in helping us turn the page on this chapter .

72,000 minutes.
1200 hours.
Or 50 days later.