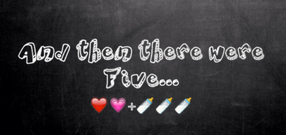 I remember when we first found out about our pregnancy. I happened to have the day off when the blood test results came back. After driving over and telling Monet in person, we called our parents and then agreed to hold off until we had more news to share. Less than 45 minutes later, my phone lit up with texts and emails of congratulations. But I was too busy to be excited.
I was livid.
If I'm being honest, I felt this was too early to share and we were too ill-informed at this stage to begin announcements. My god sister, ever the encouraging wordsmith, was one of those few people that Monet reached out to first. After getting a slew of congratulatory texts, I reached out to her first in an effort to reel Monet in. I just wanted to keep Monet from shouting from the rooftops until we were further along. She lovingly responded, in classic fashion.
"How dare you. How
DARE
you." I was speechless with confusion. "She has prayed, you have prayed, you
both
have prayed for this moment for
years.
And now, when her day has arrived, you want her to keep quiet? The woman at the well was not quiet. The woman with the issue of blood wasn't quiet. Mary wasn't quiet. But you're asking her to keep this to yourselves? How dare you."
And she was right. It stung in the most personal and embarrassing way, but I realized just how spot on her opinion. We
had
prayed for this. We
had
held out our faith for this. We
did
believe without evidence that this would be possible. And here I was telling the people to keep it down right after the walls of Jericho fell.
Chastisement aside, things progressed fairly well after that afternoon and in the coming weeks. We came to decide who we would tell and when, especially after input from our doctor. Following a few of disagreements, we came to a common accord about who would be included in our circle told at our jobs in an attempt to afford Monet with as much rest as possible and prep my employer for any extended absences needed on my behalf in the coming months. I even confined her to the house the weekend before our first follow-up appointment and placed her on "bed rest" to make sure that everything went well on that upcoming Monday.
And here it was. Monday. Time to check up on our quads and get Oprah or Steve Harvey on the phone to discuss the format of our new TV show. This time, I'd be prepared for all of the clicking this time around.
Our first sonogram showed one fetus on the left uterus with two more prominent ones on the right. We found out later that the source of all the clicks during our first visit was a barely visible fourth fetus hiding in the background on the right. Now, two weeks later, we were looking at a sonogram trying to find our fourth child, because we only saw three on screen. My heart sank with guilt, because deep inside, I had buried a fear that something like could occur.
As a man of faith, I neither hide my belief from others nor do I, honestly speaking, openly profess it as often as I should. I speak to and pray to God often. Occasionally I'll receive confirmation back that my messages were received. Two recent occurrences confirm my trust in these exchanges. The first, was my only dream depicting Monet with an uncovered, bare pregnant belly complete with an outie belly button. This was a few days before the results of the blood test and the only time that I dreamt or imagined Monet physically pregnant. After that dream I woke up knowing without a doubt that we would be parents and soon. The second was about a week before our present appointment, where I prayed and felt the strong urge to read Daniel 3:24 in my bible.
24
Then King Nebuchadnezzar leaped to his feet in amazement and asked his advisers, "Weren't there three men that we tied up and threw into the fire?"
They replied, "Certainly, Your Majesty."
Confused, I continued.
25
He said, "Look! I see four men walking around in the fire, unbound and unharmed, and the fourth looks like a son of the gods."
I was absolutely terrified. Why? Years of studying the bible led me to know that the fourth person viewed in the pit was Jesus, sent to protect Shadrach, Meshach, & Abednego. But I also know that despite four people being seen in the fiery pit, only three would emerge. What was that supposed to mean in relation to my children? I was petrified and literally shut the bible and rebuked what my eyes had seen. I didn't share the events of that afternoon with anyone and now I sat with my wife and the very same doctor that initially located 4 children. I was the only one not completely taken aback by the news.
Let me be clear. I don't know exactly what it meant or even if it meant anything at all. Pregnancies are fickle, fragile miracles whose success depends upon a wildly variant multiplicity of factors and variables. My faith and our faith, has not wavered at any point in the pregnancy and remains unshaken. Monet and I believed unequivocally that God's will would be done. Even when our doctor advised us (as the state of Florida required of him) that selective termination options were available due to the high risk nature of our multiple pregnancy, our belief stayed strong. We held firm to our position that we would not entertain the idea of choosing which children would be gifted life and would stand strong in the faith that, again, the Lord's will would be done. And now, here,
something had been done,
as three children appeared where there were previously four.
Holding onto my last thread of sanity, I struggled against plunging into the depths of despair, guilt, what for's, and why's. Uncontrollable thoughts drowned out everything else in the room and obscured my hearing. truthfully, I don't recall anything else that was said or discussed until a muffled thumping caught my attention, snapping me back awake. One of our children called out to to us. One of my babies spoke to me. Her heartbeat floating in the air, the pulsing sound of her heartbeat swam through the tension and fear and uncertainty that cluttered my mind. The chords of her life, her very existence, pierced my ears and flooded my heart. And soon, another uniquely woven monochromatic masterpiece played through the tiny speakers in the dark room as I heard our second child's heartbeat pulsing away; strong and rhythmic, dancing to its own cadence. The life song of our children joined the grand orchestra of life as their hearts pumped and beat and thumped along.
One little Shadrach. One little Meshach. And one little Abednego.