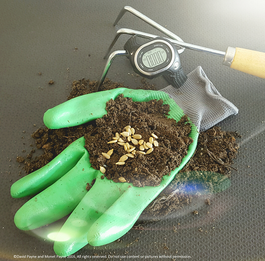 Seed

"We need to do something now. I would not suggest continuing on like this, as doing nothing will lead to bigger problems in the future. I have another patient of mine who did not listen. Her condition worsened and by the time she acted to do anything, she contracted Cervical Cancer. I know you think everything is ok now, but if you continue doing nothing, you'll very likely develop cancer in that region as well. "

Pause.

Monet and I had been married a little over 3 years at this point. We began infertility options with a couple of unsuccessful runs while still in Charlotte. After relocating to Florida one of our good friends placed us into contact with a Holistic practitioner and we began treatments there 1-2 times per month, travelling 2-3 hours to South Florida for 1 hr sessions. Aaannnddd after about a year or so of this, we found ourselves in the office of a highly recommended fertility specialist, just to see what our treatment options may be.

Unpause.

"You do understand that you're risking cancer, correct?"

…Pause.

Here we were. Weary from the last couple of years of no's, not quites, and almosts. Confident from the positive strides we achieved with our holistic treatments and hopeful that her body would test as ready to begin treatments. And here, where this highly recommended specialist was telling my tired, exhausted, and emotionally fragile wife that our decision to try the holistic approach to regulating her cycles was going to result in her developing cancer.

"Hell No.", was all that I could muster out right after I slammed the driver's side door shut.

"I don't like him. I don't appreciate the way that he spoke to you. I don't appreciate scare tactics…", I explained to Monet. "No. Absolutely not. We're not doing this and we're not doing it with him."

I didn't care who he was, what he could do, and who he did what for. My gut, my innermost being, my very spirit, stood in opposition to this man. I refused to proceed under a premise of fear and certainly not under his guidance. We came into the office as two, college educated professionals exposed and vulnerable, in need of a specialist care for what is often a very private and very embarrassing ordeal that can stretch on and on for years. And you sit there in our first meeting and tell my wife that she's going to get cancer? Suffice to say we prepared ourselves to travel down another year of our holistic journey.



Time

"I'm done."

Monet looked at me across the room, her shoulders slightly sunken from the weight of another year without results. There wouldn't be a debate this time. No questioning. No hopeful second or third alternatives. Almost a full year of being consistently on the run had taken its toll her. On us.

"I'm just…I'm just tired. Tired of driving. Tired of making you drive. Tired of all these trips and all these treatments. I'm just ready to try again. If we're not ready by now then we'll just figure it out. But I can't do this anymore."

She was, of course, suggesting that we stop our holistic treatments again and revisit the fertility clinic with Dr. YouGonGetCancer. I'd love to say that I pulled up my big bad manly husband britches and responded with a guttural sound of agreement. Or that, in this crucial moment, I opened my mouth and shared a timely and encouraging word from the Lord, Amazon Prime delivered from heaven to my lips. Truth be told, I think I only managed to get out an "Ok". Because I was exhausted, too.

Imagine just running. Not in a race. Not in a 5K or on a treadmill. Just outside, feet hitting the pavement type running. There's no clock, no competition, no finish line. Just running, that's it. Can you feel the pressure of not knowing where you're going or when you'll get there? Does your chest tighten at the reality that there's no end in sight or the crushing fear that there might not even be an end at all? How do you rationalize continuing to run? How do you motivate yourself to keep doing what is clearly not yielding results; when all this damn running hasn't led you anywhere that you haven't already been? How do you find the strength to keep putting on a positive and supportive face, so your partner won't see you slowly drowning under each rising tide of despair?

And so here we were, in the office of the highly recommended fertility specialist. Just to see what our treatment options may be. Exactly one year later.

Only this time, our conversation didn't revolve around cancer. There was no judgment or "I knew you'd be back" comments. He spoke to Monet with care and compassion, taking the time to explain what procedures he might suggest based upon our background and records. There were smiles and a few jokes. There were firm handshakes. And for the first time in a while, there was hope.



Harvest

I had an amazing 35th birthday. Monet completely spoiled me with my presents, my family drove into town for a dinner, and we finally made good on our promise to get this darn website off the ground. One point of contention with the blog that I was not looking forward to was returning back to Facebook, as I've not been very active over the last few years. But seeing all of the birthday wishes and truly happy responses to the babies' announcement made me realize just how much of a hermit that I'd become. Yes, its only a few letters scrawled out that takes most people less than 5 seconds to write (and somewhere along the way "HBD" became a thing), but the point is that people do take the five seconds to acknowledge you. And I'd forgotten just how amazing that can feel. Even better, was seeing Monet beam with happiness over all the well wishes and congratulations posts from friends and old classmates. Her smile and excitement was easily the best gift this year… but my Amazon Echo is a close second.

Against my better judgment I took two days off this week and, finally with some free time, began looking back over the last few years. How we took on Abraham-like faith to pick up and move from our dream city in Charlotte, NC. How we cut the cord on both of our dream jobs and flung ourselves upon the waves of fate, choosing faith over comfort. How I still can't reconcile how we were able to afford anything after the move and through the first year of being in our home. How we both came down and planted the roots that are now growing into a family of five. We also decided to stop over to the visit the office of the highly recommended fertility specialist, which is only fitting because it's where this journey really picked up speed after Monet had the strength, vision, and wisdom to lead us back there.

I've been honest with our family and closest friends about our first experience there. And I've also taken responsibility for the fact that the real problem with our first visit was me. Our doctor wasn't a fear mongering bad guy. He wasn't using scare tactics to secure patients. He was direct, he was blunt, and he cared enough to pour straight talk with no chaser in our cup three years ago. It was my spirit and mind that wasn't receptive to anything that was shared that day and I'll never know us walking away the first time was part of God's plan or if I was simply just being difficult and obstinate. What I do know for a fact is that our highly recommended fertility specialist and his staff are a group of wonderful, kind, and caring people. I know that when I placed my arrogance aside and we became their patients, there wasn't a thing in this world that his entire office would not do for us. We were so spoiled that it felt like were his only patients. And this was months before we even knew that we were pregnant! It hurts to admit that I failed to see all of this during our first visit. To know that I failed in being open minded enough to give these professionals a chance to do what they are so very good at. To know, in my heart, that I was too blind and haughty discern that he wasn't speaking cancer into our lives but was only using someone else's testimony to educate and advise us.

This man, and his staff, absolutely beamed from ear to ear when we walked in today. He hung on every word that Monet said. He lingered in the office to talk even longer than we expected and made us commit to seeing them one more time prior to delivery and again once the babies are here.

Driving home it reminded me of the importance of maturation. The essentiality of time's passing. And, yes, seedtime and harvest. A harvest requires the confluence of 3 items; the seed, the soil, and the time. Seeds and soil vary and some seeds do better with certain types of soil. But in all cases, nothing grows without time. These past three years have felt like a lifetime and whirlwind all at the same time. With a spirit of humility I am so thankful that the blessings that are raining down now didn't occur back then. I am thankful, most of all, for the passing of time. Would it have been too much back then? Would we have even been ready? Would I have been ready? Nevertheless we're ready now, or, at least much more than we were before. Everything, has its place and time. Even during the dark days, when you're staring out on the field of your life waiting for signs of growth but the soil hasn't moved an inch. Don't give in to despair. Don't give up on hope. Don't abandon faith. If you take nothing from this post, know that even though you may not see anything, time is passing. And each passing moment brings you that much closer to your harvest.