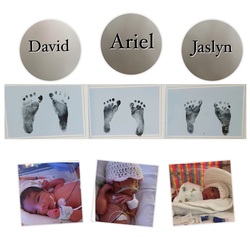 The dates:

My true due date: October 17th (40 weeks)
Triplet due date: September 19th (36 weeks)
Major milestones to pass for health concerns:
July 25th (28 weeks)
July 4th (25 weeks)
My personal goal date to meet or exceed: September 5th (34 weeks)
Ob-gyn and Fetal-Maternal Doctor's goal: As long as possible
Date of delivery: August 12th (30 weeks and 4 days)


That seems like a lot of dates, huh? That's just a taste of the uncertainty we dealt with the entire pregnancy. We just didn't know when we would deliver and these babies would come into our lives. So honestly, all we could do is pray day by day that they remained healthy and strong. August 12th was not too early, yet not as late as we wanted, but in the end just right because the babies were born healthier than any health professional has seen for triplets at that gestational age!


The story:

Every woman has her delivery story. And I've had countless people ask me about my story, so I decided to make this post about that. The day before I went into labor, I managed to book a hair stylist to come out to our home and braid my hair. At this point I was released from the hospital bedrest to home on a strict bedrest. I had a doctor's appointment the next day and knew they may re-admit me into the hospital for bedrest until delivery, so I wanted a low maintenance hair-do that would last me awhile. The next morning, Thursday, August 11th, I woke to some dull aching in my lower abdomen and a very faint tinge of blood after using the bathroom. We didn't freak out because our appointment with the fetal maternal medicine doctor would involve a check of my cervix and I could share any other concerns. Given the weight of my belly these days and the discomfort from the baby's' movement, I knew there was a great chance of being re-admitted so I brought along my suitcase of nightgowns and items from my most recent stay. This time around, I was prepared to stay and return home at some point after our babies were born. As we began our trip to Orlando, I noticed my dull ache felt a bit like menstrual cramps. I reported all of my feelings and concerns upon arrival and we prepped for my appointment. This time when using the bathroom, I noticed a spot of bright red blood, and the achiness in my lower pelvic area seemed to throb. The ultrasound showed 3 healthy and growing babies, my cervix was still short but holding on, and the fetal stress test showed just one contraction. The doctor planned to send me home. If you read David's Deets entitled "The First 48…" you know that the doctor and David had a meeting of the minds and the doctor decided to re-admit me to the hospital on bedrest after all. Upon readmission into the hospital, I told the nurses that I thought I was having contractions. They asked me how and I told them about the achiness in my lower pelvic area that seems to intensify and release every few minutes (I asked David to time it for me). The nurses dismissed my concerns because they stated that contractions would cause my entire belly to tighten and contract, which was not what I was experiencing. But in my mind I knew something was not right. The fetal monitoring listens for each baby's' heartbeat and with triplets, it's always a treat to see if the nurses can track down all 3 heartbeats and keep them for a period of time. That's 3 different monitors…then you add on a contraction monitor and it's a sight to see! I need to dig in my old photos and see if we ever took a pic of it. I insisted that I was contracting so the nurses placed the contraction monitor on my lower abdomen (rather than the middle of my belly) to see if it picked anything up. As soon as they did, they discovered I WAS contracting, and contracting just 7-9 minutes apart! They moved the monitor to another part of my belly, and the contractions continued. They could not explain why my belly was not fully contracting like it should, and all I could tell them was that the doctor told me my feelings and contractions wouldn't be like the typical pregnancy because I have 3 babies inside. To think, we could have been on the road traveling back home from Orlando. What if the contractions picked up? What if we went home, called the after hours line and were told not to be concerned about the pain because it wasn't my entire belly, therefore no contractions? Lord I don't want to even think about it. I just thank God the doctor heard my husband and had the thought to readmit me that day.

The contractions continued so the hospital ran an IV line to slow things down, if not eliminate the contractions. Hey, maybe I was dehydrated, maybe it's Braxton Hicks. The IV didn't work, in fact, the contractions were now 6-7 minutes apart! I could also feel the contractions coming on a bit stronger. I would watch the contraction monitor and whenever the line swelled past the 30 mark, I felt things intensify, and die down when it lowered. Now it's time for bed, yes, they actually expected me to sleep with 4 monitors strapped to my belly and contractions 6-7 minutes apart. Oh yeah, and just in case I had to deliver that night, they took me off of food earlier that evening… so I'm also starving. Sleep was not even an option that night… and I want to say now that I haven't had a full nights sleep since before that night. The contractions continued on, I vaguely remember crying to David that we were about to have our babies and praying they were alright… and David telling me over and over again, "We are not having these babies tonight. They are not coming tonight."

"...This man doesn't know what he's talking about, he hasn't carried a baby one day in his life. Who is he to tell me what is NOT going to happen. Doesn't he see that contraction monitor? Doesn't he hear my moans as the pain becomes more and more uncomfortable? I cannot continue on like this forever. Eventually my cerclage, that is keeping my short cervix together, will tear and our babies will make their grand entrance. OR, the doctors will call it and schedule my cesarean section stat." These things ran through my head as I argued and tried to reason with my husband. He then laid his rump down for a good night's rest. I was floored. The pain increased throughout the night, the nurse came in and gave me a med that was supposed to knock out the contractions once and for all. Didn't work, in fact, the contractions sped up to 5 minutes apart and more intense. When the pain was getting worse, I texted my cousin, dad and mother in law, telling them the pain was getting so bad and I just couldn't make it stop and I don't know what to do. My cousin suggested I ask the nurse for something to take the edge off. An epidural was not an option because we needed to deliver via cesarean. The nurse did have another med for me, and this one made me so drowsy and loopy that the whole world slowed down to the speed of molasses and I had a few incoherent conversations. It did, however dull the pain for about 2 hours so I could sleep. Just as quickly as the drowsy side effects wore off, the pain returned, and stronger.

8:00am the doctor enters and tells me they have tried unsuccessfully for 12 hours to make the contractions stop and they cannot. Therefore they have decided to deliver the babies in the next hour.

Pause.

Did he just say deliver my babies? I was floored, ...but accepting, ...yet, ...floored. This was really happening, I was going to meet my babies that day! As we began to flood our parents with info on what was about to take place, the doctor returned and stated the hospital needed more time to assemble the team to deliver the triplets, therefore my surgery was pushed back to give the team time. That was from 8 to 10am, and then 10 to 12pm. By 12 noon I am in the pre-op room ready to go in and they again have to push me back as they work to assemble the team. At this point the contractions are 1 minute apart and the contraction monitor reading was at the top of the chart. I was in PAIN. So much so, that I refused to wait any longer for that room to open up. I told the staff to take me there right away, or better yet, I would walk to the operating room, because the pain was just too much for me to bear. The nurse finally came in to wheel me down and it was time to get this huge birthday party started.

22 people. 22 staff members from the Florida hospital participated in our baby's' delivery. Don't ask me all of their names, roles or titles. Just know that we had 22 smiling faces ready to bring our miracles into the world. Spinal tap anesthesia, nausea, lots of laughs, smiles and some prep, and before we knew it, our babies were delivered. David IV came first, 1:31pm, followed by an almost immediate cry. You have to understand the feeling of disbelief that ran through my mind.. Is that really my child? Such a loud and strong cry. Followed by Ariel, 1:32pm. And Jaslyn, 1:33pm. 3 of the longest minutes of my life, and voila, I am a mother! The teams each worked on a baby and I asked (probably a million times), "Are they alright?", which of course each team answered yes. My honey girl, Ariel required a c-pap for some supplemental oxygen, but otherwise there were no major issues. David was removed from the room almost instantly and taken to the NICU for further monitoring, Ariel followed shortly after, and Jaslyn lingered for a few moments longer, stopping for pictures with mommy and daddy.

Following delivery, I was taken back to the recovery room, where family came in to greet me and David. As you can imagine, I was beyond exhausted, so I vaguely remember much more than the nausea that took over following surgery. The recovery nurse did offer to bring me by the NICU to see the babies before taking me up to the mother-baby unit, and I'm glad she did. Had she not done that, I would not have seen my babies again until I was able to walk! The nurse rolled me into the NICU, and I got so many stares… I could overhear people whispering, "there's the triplet mom", my new nickname. The problem was I wasn't smiling, I was so nauseated that I was embarrassed to see my babies. Don't ask me my name, the color of the sky or anything because the "empty" contents of my stomach just may come up. The sickness was consuming and add in weakness… I could barely reach my hand out to touch my babies. After a brief visit with them, I was taken up to the mother-baby unit where I stayed for the next 3 days. At that point my chief complaint was nausea and exhaustion. I actually thought having a cesarean wasn't so bad… HA! I didn't have a clue.

In the days and weeks to follow, the pain from my cesarean left me barely able to walk. Try feeling like someone is ripping the stitches out from inside of you. My incision leaked for almost 2 weeks, and David was forced to transport me via wheelchair. And to top it all off, I felt guilty for not being there for my babies. They needed me and I was too weak and in too much pain to help. 24 hours later, I was cleared to walk about in the room, and have wheelchair access to the NICU to see my babies. My God, seeing them connected to all of the machines and hearing all of the monitors was depressing. However by the looks of things in the NICU, this very fragile place, things could have been much worse. I truly thank God for his covering over me and the triplets. I was discharged that Monday, and by the grace of God able to go straight into the Ronald McDonald house. One (very long) block away. It was there that I truly began my healing process, the night sweats, chills, pain, aches, you name it. And it was there that I also began to grow as a mother. No, my situation wasn't like the traditional experience where you give birth and come home with you baby. I had to spend my days and nights in the hospital, learning all I could from the nurses, doctors and therapists. David and I were the students. Thinking back on it all, God had me right where I needed to be, at the right time, in the right place, and in the right situation. Although very difficult, it was his plan all along.


Next up... be on the lookout for my upcoming posts:

1. NICU

What were our days like in the hospital?

2. Got milk?

You guessed it, my post about breastmilk and my formula journey.

3. Trippin' aint easy

What's a day in the life of a triplet parent like? Find out what works, what doesn't, and when I have no clue about what I'm doing.


And now, a little surprise, please enjoy the video! Subscribe and like on YouTube at 3 Lil Paynes to keep up to date on all videos! Happy New Year to you all!