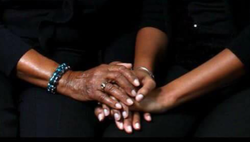 "Smile"


Smile, though your heart is aching.

Smile, even though it's breaking.

When there are clouds in the sky, you'll get by.

If you smile, through your tears and sorrow.

Smile, and maybe tomorrow.

You'll see the sun come shining through, for you.

Light up your face with gladness.

Hide every trace of sadness.

Although a tear, may be ever so near.

That's the time that you keep on trying.

Smile, what's the use of crying?

You'll see that life is still worthwhile.

If you, just, smile.

-Charlie Chaplin


Smile, one of my grandmas favorite songs. Someone told me just today, "A lot of what's in you, your grandmother put there. Don't forget that." I couldn't agree more. Grandma was and will remain an extension of the term "mother" in my life. I lived with her for a short while after my grandpa died, and I remember how she grieved. I mean, 40+ years of marriage will do that to you. Initially I didn't know what to say, I would offer my shoulder, rub her back and offer tissues. But mostly, just my presence was a huge help. Here she was, one of the toughest women I knew, weak and fragile. I remember praying for that kind of love, naively admiring love and marriage when I truly didn't understand what went into it. Yes my grandma loved my grandpa, I know that. But as an adult, I now understand what it means to love someone with your whole heart. For grandma, it involved giving your all to them for over 40 years. And then one day, that person leaves and you're left alone.


I moved closer to my grandma when I came to college. My mother passed my senior year and I always wanted to attend the University of Florida. Each year we would make our trip down to Florida and spend Christmas or Easter. And each year we'd pass the UF campus and I would stare out of the window imagining what life in college was like. So it was a given that I would apply for college there and when accepted, I chose Florida. This was such a time of learning and growth for me as a young woman. I just lost my mother and then half of a year later I was in Florida with my grandma and she picked right up right where I needed her to. I mean, we talked about everything and my grandma was not shy.


While respecting the fact that I was a college student and in a new environment, she told me sweetly one day. "You can do whatever you want on Saturday night, but you will be in church Sunday morning." And she meant it. And not only did she look for me, she saved a seat for me and whatever friends that decided to join. She didn't care much about how many or who, she just knew little miss Monet WAS going to be there. Period. That was another time of growth for me. Growth in my faith. I knew God, I knew the Lords Prayer, the books of the bible, and some scripture. Heck, I grew up in church since I was a kid! But there's a change that takes place in you when you're a young adult, and an adult. And the learning and growth that take place far exceed anything you learn as a child. That childhood experience was the foundation. But my growth as a young adult was the building blocks. Each weekend (or week depending on the time in the semester), my grandma also expected me to take a drive out to her house. It didn't seem so far when we were kids, but my grandmas house was a good 30 minutes away, on a good day. And that drive in college, plus the time spent there took a good chunk of my Saturday or Sunday. Grandma would feed me, well. Talk to me, see how school was going, studying, friends, professors, you name it. She kept tabs on my every move and for good reason! I was young and immature and as much as I thought I had it together, I didn't. I came to school at 17, I was NOT together. Lol. After my meal, and no, you couldn't leave without eating, I would also zonk out for an afternoon nap. My grandmas guest room bed was so comfortable, so soft, and so big compared to my twin back at the Ivy House. Grandmas home was my get-away from all of the stresses of college life and my grandma pulled me out for that breather every week.


My grandma always had this thing she would say:

When I finished a big exam or paper: "We finished that big exam or paper."

When I finished a semester: "We finished a semester."

When I scored an A in a class: "We scored an A."

When I graduated from college: "We graduated."


She and I. Why? Because everything I went through, she went through, with me, because she was so heavily involved in my life and she was there every step of the way. I remember one night, I decided I was going to have a drink or two with my friends in their room. Her grandma senses must have gone off because she dropped in the next day for one her surprise inspections. No time to prep because she is calling me from down the road. She could immediately hear I wasn't feeling well. Upon arriving, grandma insisted we go to our little soup and salad spot, McCallister's for lunch, followed by a trip to Publix to ensure I had quality groceries. I got in the car looking a mess. Grandma, who never misses a thing, asked me if I was alright. I told her my tummy was upset... and she suddenly decided she was going to take me directly to the hospital because I needed a check-up! I came clean, and accepted the lecture that followed. She was right. I was being stupid and I needed to be more responsible, especially as a "young lady". I continued to enjoy my time in college, but my grandmas advice and knowledge always stayed with me. She was definitely in my head.


Fast forward a few years and I finished graduate school. Oh excuse me, "We finished graduate school." And I moved back to Gainesville to work. In my mind I thought I would stay with my grandma for awhile until I got on my feet. Wrong. After two weeks, I secured a job as a speech therapist and I was already working full-time at the part-time job I had in college. Just until the new job started. One day grandma said, "Okay, let's go look for some apartments". What?? Grandma wasn't going to let me freeload for months?! No way! She was always encouraging me and teaching me to be smart, responsible and independent and that included after becoming a recent college graduate. Found my own place, 15 minutes to grandmas house, 15 minutes to work. I resumed my church involvement but stepped it up a notch. I even began to participate in some of her club activities, after all, we both wanted to keep up with each other.


As you can imagine, with time came age and my grandma couldn't do the things she used to. I get it. It's funny how the tables turned a bit. My grandma, the once over protective guardian became a bit softer, and I turned into the over protective granddaughter. You messed with her, you messed with me. I was right there, on the job. Time passed on and grandma aged more, I began to host Thanksgiving at my place. I could never match the meals that grandma made and to this day I would give anything to have a sample.


Fast forward to my wedding day and it was decided that grandma would move north to spend more time with family. The day after marrying David, we loaded the car and moved to North Carolina. That was such a tough day. Yes, I was so happy and in love. Yet I was leaving Florida. Especially my daddy and grandma. I cried and I wept, and David gave me a moment to get it together. But that move was so significant. Yes, "We got married". But no, "we weren't moving". At least not moving together. Maybe I'm wrong about that, but there was a change for me.


Since becoming pregnant, I decided to wait and tell my grandma face to face. After all, she didn't quite understand iPhone FaceTime, and she deserved more than just a phone call. Now that grandma has passed away, I regret that decision. How could I let that opportunity pass? She knew about my PCOS. And she knew of my fears years ago. She also believed that I had nothing to worry about.


Once, a while ago, while visiting family.... My grandma was meeting one of her great-granddaughters for the first time. As she was talking to the baby, "...Hi!! Aren't you beautiful? I'm great-grandma, I love you." Oh how the baby lit up. But then she said something that has rung deep in my heart for years.


"Now great-grandma just has to see your auntie Monet have a baby and then I can pass on to heaven."


Ouch.


So today, I sit here thinking of our relationship. --Not excluding my family, just speaking from my experience. I want to note they were always there with us and we're all a close family.--

But I reflect on our relationship, how far we've come. And I sit here pregnant with a very important surprise that I waited too long to share. And now it's too late. And to make matters worse, I'm here locked down in the hospital protecting our 3 little miracles. How could I miss her funeral? I've always enjoyed dreams that include deceased relatives. Especially ones with my mother because we always sit, talk, and catch up on life. It's like our girl time. Maybe one day, after the triplets are born, I can share this huge surprise in one of my dreams with her.


And tell my grandma, "We did it. We had 3 babies."


RIP grandma, and love you always! I will sweetly sing your song to the babies. And place some of your light within them. ❤️❤️


Smile.