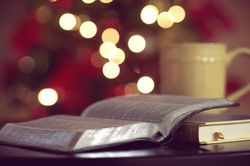 l'm a mom.

I am someone's mommy.

I am a mommy to triplets.

Wow.



Life completely changed the moment I became pregnant in January, and things have not been the same since. This whole year has been building up in anticipation of the babies coming. How soon? Dates? Doctors? Location? Etc, etc, etc. I know I've been away from the blog for quite sometime, but I just don't have the time some days to pause and write like I used to. Sometimes I miss the days of being bored, sleeping in, and sitting at home being an occasional couch potato. I also miss my pregnancy days and the rest (I was supposed to take). And hospital bedrest. Man, oh man. I thought it would never end. 21 of what seemed like the longest days ever are in the distant past. Now my days are filled with diapers, wipes, crying, tears, bottles, pumping milk, breastfeeding, dressing, holding and rocking. I'll also sprinkle in coughing, spit ups, pee and poop. Lots and lots of those. And finally, I'll shower it all with love. I am absolutely in love with my babies. They bring me the greatest joy that I never imagined I'd feel. Don't get me wrong. I'm exhausted. Like, delirious at times. And sometimes I feel like, man, I just can't do this. I'm SO TIRED!! But guess who gets no time or days off? You guessed it, momma! I'm fortunate my husband is so helpful and does what he can. But he's a man. A good man, but a man. He may or may not understand and doesn't bear the same weight of responsibility that I do. No, I am not trying to start the great debate on men and women parenting roles and responsibilities, so I'll stop there. But again, my husband is phenomenal and I can't thank him enough.


So here I am. Same Monet, yet a newer version of myself. There's something about those little people that takes over your heart and soul. My heart and mind doesn't know the difference between one baby vs three. It just knows they were cut from my womb and I'll do anything to protect them. Full. Mama. Bear. Mode.


So on August 12th, 9.5 weeks premature, we were thrown into parenthood. Delivery went by so quickly. Before we knew it, they were here! Recovery was rough. Leaving the hospital without my babies was devastating. Our babies needed to stay in the NICU for a period of time, which I knew that before they were born. But to leave without them? My poor heart. I didn't have the words initially, so I just sat in the wheelchair and let David roll me to the Ronald McDonald house. I sat in silence while he chatted away, trying to keep the air light and spirits high. It didn't really hit me yet, but something was brewing inside. My first thoughts were "man, how am I leaving the hospital so soon when I can hardly walk? This pain, is tough!" I didn't want to take pain meds because I was pumping milk (or attempting to), but I couldn't survive without them. Dang. How was I gonna manage this one? Then, they expect me to leave the hospital, knowing that I'm leaving 3 extensions of my heart?! No way. I thank God that we were able to secure the Ronald McDonald house. It allowed me to be 1 block away, vs 1 hour away from them. The room had an Orlando Magic theme, even equipped with a basketball hoop. Everyone seemed so friendly, and I received the usual comments like, "you had triplets?! Omg". But I was hollow. Flat. Trying to process my feelings.

I remember coming into our room and David went to use the bathroom. As I began to unpack my suitcase I came across a little baby hat from the hospital. Tucked inside was a bulb syringe (nose/mouth) suction. I remember one of the neonatologists giving it to us post surgery. It was on one of the babies birth table and wasn't used. I took one look at that bulb and burst into tears. "How could I leave my babies?!?!" I asked myself. "How could I do that to them?!", "What kind of mother am I?!" It all finally came out, I sobbed for quite awhile. I knew they were receiving the best care, and I knew physically I couldn't care for them in my condition if they were home with me. Yet, being away from them was difficult.

In most cultures, it's common practice for the woman to remain at home with her newborn for at least a month. Leaving home for very little, maybe appointments at the pediatrician. Old school yes, I know, but that's what I remember being told for so many years. "Your body needs time to heal", they said. "The baby is too young and fragile", they'd exclaim. But what if your baby is still in the hospital? Breastfeed??? Nope. Pump. Every 2-3 hours for a baby a block away who cannot eat by mouth yet. Waking every few hours, even at night. Awakened by not baby cries, but your cellphone alarm. It was unchartered waters! Those first few days, and week following delivery were the most difficult. The original plan was for David to spend a few days with me and then get right back to work. Saving his leave time for when the babies were home. Go home during the week, come back on the weekends. His mother would stay with me during the week. But he chose to stay with me that full week instead, and I was so happy. I was a mess physically and emotionally and the only person I wanted was him. And physically, my limitations were far beyond what any book or advice could tell you. He was my rock during that time, and I couldn't be more appreciative.

The next chapter has begun, and boy oh boy, we're just getting started. The story will continue... stay tuned.


Be on the lookout for my upcoming posts:

1. L&D

I'm constantly asked about my delivery so I'll share my story.

2. NICU

What we're our days like in the hospital? How did it become our second home?

3. Got milk?

You guessed it, a post about breastmilk!! Who would have thought that would consume my life?