---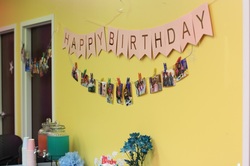 WE MADE IT!!!!!!!!
Insert confetti, balloons, fanfare and a heaping load of reality. We made it. We. Are. One. The past few weeks have been a whirlwind. Mommy returned to work, yes, you read that right. Babies celebrated their birthday. They were baptized. Babies started toddler school, yes, you also read that right. And somehow this 1 year milestone is both a celebration of a major victory, and also the beginning of a greater, more intense and much more involved chapter of our lives. We graduated from "babyhood" and sprung forward...face first into "toddler-hood"! Yikes! Someone pump the breaks! We were just getting the hang of this thing called parenting, now we have to deal with THREE toddlers?!
Let's give you a rundown on how they're doing…
Collectively, we have 12 teeth, a crawler, stander and newly walker. They wave, clap, smile, and babble many sounds. They also say mama, dada, yeah, hi, did it, and up. They enjoy eating, music, blocks, smiling, giggling making new friends and playing amongst themselves.
Collectively, they also drink 108 ounces of milk a day, eat 36 ounces of food per day, use approximately 126 diapers a week, and sleep like champs in their cribs each night for 10-11 hours.
We're looking forward to each of them walking, talking, and eating a larger variety of solids. At school they enjoy creative writing, glueing, learning about different textures and exploring the outside world on the toddler school bus/wagon. Their growth and curiosity is just mind-boggling! We appreciate all of the love and support from our family, friends and fans. We couldn't make it to this point without the help of our village!
Want the deets on their first birthday? Well it's hard to plan a birthday for 2 girls and 1 boy…. There are many options out there. So here's
Monet's 10 step guide to planning a triplet 1st birthday party!
And don't forget to visit the "
Peek at the Paynes
" tab for a slide show. A special thank you to Dennis Walker and Jared McCaslin for being our photographers for the day!
1. Plan a 1st birthday photoshoot….
This we had to postpone until later this fall. We scheduled 2 different shoots and both times we were sick and shut in. :( That really stinks because we wanted to capture some studio shots before their first birthday, but even up to the week before, we were battling some sort of bug in our house. So even though it didn't work out for us, it was definitely on our agenda… we'll just have to make it work another day.
2. Pinterest…
We've all heard of Pinterest before, right? If you haven't, check it out! If you have, use it to your advantage! If you're a triplet parent or just a busy parent like us, then you probably don't have LOTS of time on your hands to plan a birthday party. I mean, you're probably busy feeding, changing, dressing, bathing, playing with and entertaining your children! Not to mention taking care of yourself… so Pinterest was my go to for all party planning ideas. I created a secret board to give myself room to just get creative. I searched, "First birthday ideas" and pinned like crazy. Then I searched, "First birthday ideas for girl/boy twins", and pinned like crazy. After pinning multiple ideas, David and I discussed and narrowed down to our favorite theme. We decided on "The Mister and the Sisters: Tutus and Bowties"!!!
Once we had a theme in mind, I then pinned a variety of things to my board that centered around that idea. Keep in mind that I knew we couldn't make it all happen, but if you pin a bunch of ideas, you have it all in one central location for later. Brainstorming at its best!
3. Budget…
Once we had a theme in mind, we had to discuss budget. Keep in mind we are a family of 5 with 3 babies all the same age. It's nice that we only have 1 party to plan per year. But, we didn't want to break the bank! Planning your child's first birthday party can get crazy… well, mama and daddy can get crazy. So a budget helps keep things contained. We budgeted $500, but spent $700 for everything from outfits to decorations. That figure may seem like a lot to some, but these things add up fast. :)
4. Location…
Your party venue could very well break your budget from the beginning. We were BLESSED to be offered a venue free of charge, which was just AMAZING!! I cannot tell you how much of a present that was alone. I don't think we can say THANK YOU enough!
Okay, so location is important, start there and keep planning. Keep in mind you need to have enough space for indoor activities, outdoor activities, food, seating, parking, and appropriate facilities. And for us and our triplets, we needed space for their Baby Diego corral, so our guests weren't expected to hold our triplets for us all day.
5. Invitations…
The days of traditional party invites aren't completely over… but when you're a parent of triplets, a busy parent, it's best to capitalize on technology. We used 3 avenues to contact our guests, that may not be the best option for some, but it worked best for us. We used Paperless Post, HobNob text invites and Facebook! All for the cost of "Free"! Yes, trying to save every bit of our budget for the food and decorations. All 3 invite options gave us the capability of messaging guests, sending reminders and tracking replies… all on our phones. No need to wait for responses by telephone, mail or email, you can log into the app and track on your smartphone! If you haven't tried this for your event, it's definitely worth it. Oh yeah, and we used the invitations as a way to relay information about our first birthday wish list/registry. It was the easiest way to share the information and keep everyone in the loop.
6. Decorations…
Here's where things get creative. Again, we do not have a ton of time on our hands, therefore we didn't have a ton of time to put into creating decorations. Pinterest gave me so many wonderful ideas and I am beyond thankful. To be honest, we used Amazon, Target, Walmart, Dollar Tree Dollar General, and Party City to purchase our party decorations. Amazon was best for the more specific birthday girl/birthday boy decorations and outfits. Pinterest gave us many do-it-yourself ideas, but we just didn't have the time. I'm looking forward to future parties where we have more time on our side. And, our family came through and loaned us their bounce house which many of the children used outside. Thank you!
7. Food…
Again, time and budget we're key to the perfect execution of this party. We didn't have time to spend hours in the kitchen cooking the night before. Especially when we had company coming to town and the babies to care for… So, we opted for cake, punch, pizza, chips, fruit salad, water and soda. Easy-Peasy. Yes, we could have delegated meals to friends and family… but that doesn't always go as planned. Period. So instead of risking it, we went with our simple menu. And for the time of day, it worked because it was a meal heavy enough to fill bellies, but not to replace dinner.
I won't go into too much detail, but one thing i've learned is that when you buy a cake with buttercream icing… particularly a small one (aka smash cake), take it to refrigerate immediately because this Florida heat melts the icing quickly like its an icecream cake! :(
8. Creativity…
There were a few creative ideas we incorporated to make our party special. This past year has been a journey for David and I. And our family, friends and fans have been on this journey with us, so we thought it best to incorporate photos of our babies over the past year. Throw in some twine and clothespins and you have a creative slide show decoration! We hung photos throughout the party and it was a great conversation starter for our guests. Of course since some knew each other and some did not.
9. Fun…
Plan at least one game… with prizes. We did a "How well do you know the 3 Paynes in a Pod" game and boy did people get competitive! ;) But it was a fun game that EVERYONE could play and we didn't have many rules on how people played. It was fun to see who joined forces, who thought they knew it all, and who was serious about the scoring.
10. Execution…
Okay, so it's the day before the party and you have all of these decorations to put up, a venue to rearrange, three babies to care for, and family on their way into town. What do you do? I must say, the logistics behind planning a party changes drastically when you have triplets. We are so thankful to David's parents for babysitting while we went and decorated. We handled all of the decorating the night before with the exception of the balloons and the food, of course. That we handled 2 hours before the party. It cut down on some of the stress involved with the day-of preparation.
But, it still didn't account for the biggest logistical detail of them all… how are we going to get the babies there AND keep them from being cranky?! So here is how we handled the day of details that led to 3 happy babies and 2 not-so-cranky/stressed out parents:
The easiest way to plan for the party was to schedule at a time that wouldn't completely disrupt their daily routine. We opted for 1pm, since it flowed with our schedule; it wasn't too early in the day or too late. And we planned this time with the understanding that they would need lunch and 1 bottle during the party. The morning of flowed as usual, but it was critical for them to take a nap that day (late morning/early afternoon). This can be hard when you're running on 3 hours of sleep, company is coming to town, family/friends are calling for final details and you're packing final party things in the car. BUT, our trio went down and took an hour nap each, amazing! After their naps we fed them a bottle and pre-dressed the for the party. One detail we didn't account for was how we were going to dress them and get them to the party when David had to go over and finish decorations. Luckily David's best friend came into town early and helped us tie loose ends. I arrived with the babies 15 minutes before the start of the party and guests were showing EARLY! Everyone pitched in and we got the party rolling in time for the bulk of our guests!
So my greatest advice for the day of logistics is to have LOTS of hands on deck! Hands at home to help you get the birthday girl/boy ready and hands at the venue to finish the final prep.
And don't forget to…
Eat.
Drink lots of water.
Take pictures!
And most importantly, HAVE FUN!!
It's not everyday that your baby turns one years old! Take a moment to soak it all in and live in the moment. :)
Please take a moment to stop by the
Peek at the Paynes
tab and view our photos from the party and the baptism the next day. Our first year is one we'll never forget, but the fun doesn't stop there! Stay tuned as we tackle this thing called Toddlerhood and I promise you more is in store. Be blessed!!!
-Monet