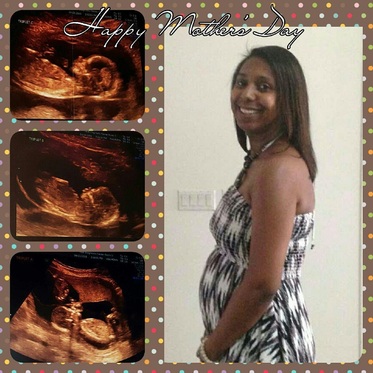 For two whole weeks, TWO, we walked on cloud nine. Mind you, I was only a few weeks at this point. We walked into the doctors' office, hand in hand, ready to see the evidence of our baby. The nurses and staff were all congratulating us and we prepped for the doctor. Tall and stately, the doctor came in, wanting to smile wide, but maintaining his composure. He knew he assisted with another miracle, yet didn't want to come across as pretentious. I laid back for the transvaginal ultrasound, the lights went out, David to my left side holding my hand...and the room was deafly quiet. The doctor doesn't speak much during evaluations, so I didn't push… I just stared at the ceiling because I cannot see the machine. I remember hearing a lot of clicking, but I couldn't tell if it was the mouse, or typing. The silence was so loud that a brief moment of fear began to seep in… was there something wrong? They removed the instrument, and turned the lights on as I sat up. This time, the doctor's face was blush, like a spring rose. I immediately asked, "Is everything okay?". David sat puzzled, I knew he could see the screen, but maybe he was just in deep thought. The nurse moved across the room from the doctor to David's side, and put her hand on his shoulder. My heart began to sink when the doctor said these words… "There's four.". Silence. "There are four babies". I immediately began to laugh in disbelief. David's face turned red, like a lobster and sat in silence.


Now let's rewind for a second. I know what you're thinking… huh? How did she get four babies? Infertility treatment involves intervention with drugs and medical procedures. Our particular treatment involved drugs by way of pills and injections administered at home. Remember in my first post, "Where do I start", where I briefly explained intrauterine insemination (IUI), fertility drugs and the risk of multiples that come along with it? Well these drugs help your body prepare eggs for ovulation (release) at the time of the menstrual cycle. That is if they are not fertilized by sperm before the lining of your uterus sheds. My fertility drugs helped me prepare 4 quality eggs for ovulation. Four seems like a lot, however, that does not mean that at the time of the IUI all 4 would be fertilized. We have a small chance of fertilizing one, just like any other couple. It's all science. There are couples who have 3-4 quality eggs waiting inside of the woman's uterus and none are fertilized during the IUI procedure. And they do this multiple times, so it's all science, odds, and God's grace in my opinion. We fertilized ALL FOUR of those eggs (so we thought), and that's where we were at that first ultrasound.


Fast forward back to our ultrasound. The doctors next words were, "I knew you were responding well to the treatment, but I didn't think you would respond this well." David had remained silent, and finally spoke after this comment. He was shocked, as I was. I chuckled and just said that we were grateful for this blessing and this must have been God's will. But four babies, I was still trying to process it all. We were given the option of selective reduction, and they encouraged us to think about it and not make any decisions at that time. So with this news in hand, we left the office in complete shock, and sent back out to the world to process what just took place. We walked out, left the parking lot, and David pulled us over to a quiet and secluded lot for us to speak in private. I cannot remember what was said, how it was said, or anything. But I do recall lots of tears, prayer, silence, reasoning, tears, and more prayer. God had truly answered our prayers, and he answered in a MIGHTY way! We we're carrying quadruplets!