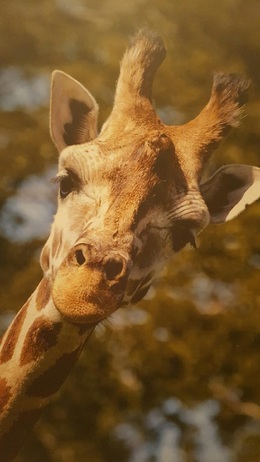 Doctor: Okay Mrs. Payne, so based on this information, our next course of action will be to admit you into the hospital.


Silence. Blank. Stare.


David: Okay. So are you talking today, tomorrow, next week?


Doctor: Today.


More silence. Blank stare. Actually, I wanted to look at David and that doctor like the picture of the giraffe above. But I was neither shocked nor sad. Actually I knew, correction, we knew this day may come. And it did. And it left me looking like the giraffe… in the picture above.


Pause.


I know what you're thinking. I already know. If you've been following our blog posts thus far, I last left you with a post discussing our pregnancy involving quadruplets. This is true. And I have many, many more posts ready and prepared to share with you to continue the story. However, we just couldn't drop the entire story on you all at once, could we? And this sudden change of events is cause for an immediate update. I promise, promise, promise to continue the story soon.


Play.


Last week was pretty interesting. We went to the doctor for a routine visit, and left there and went straight to the hospital. I always knew medical bedrest was possible. Every blog, book, doctor and nurse I spoke to told me it was possible. I, knew it. But until it happens, and it becomes a reality, you kind of wish it away and not really think it would happen. I even had a few women close to me suggest that I pray about it and pray that God does not place me on bedrest. Don't get me wrong, I pray about any and everything. Yet something kept me from praying "away" bedrest. In fact, my prayer was along the lines of asking God to allow his will to be done. And whatever he believed to be fruitful for our children, then it be done. And I also prayed that he continue to speak to us through our doctors, using them as a tool to achieve his work, and that whatever our babies needed, it be done. Correctly. So there you have it. I accepted the possibility of bedrest and I knew it may or may not happen. Well today it did.


What does medical bedrest mean to us? A hospital stay, for an extended period of time, possibly weeks. It may involve just a few weeks, or until the babies are delivered. We were 25 weeks at admittance, with the doctor's goal set at 28 weeks, then 30, etc, etc. Following check in, paperwork, gowns, socks, beds, vitals, and fetal monitoring, we were left with just the two of us… trying to figure out what the heck we were going to do next. Afterall, this IS a major disruption in our lives. I don't care how "prepared" you are for something like bedrest. When that doctor says go to the hospital and check in, you go. And while you're "going", you think of everything you didn't do before you left home. Nesting, laundry, meal prep, bills, securing your pet, preparing that room, donating that last bag of clothing. Everything. At least I did. Next, we had to notify our parents, update them on the situation and make adjustments to accommodate this very real situation.


So here I am, writing you today from my hospital bed. It's cozy, I have a great view, the doctors and staff are all so warm and welcome. However, I am not home. Not in my bed, not under my own covers and not snuggled up with my husband and doggy. I'm here, far from home protecting our babies and ensuring they make it home with us one day soon. It's funny how these little lives take over your life so early and you fall in love before they are even born. I'm reading some blogs and posts about how to survive bed rest, and I'm adjusting well. David too has some adjusting to do. Anything for our 3 P's.