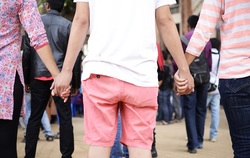 This blog is still very difficult for me to write. Yeah, it all seems to flow, I'm sharing so much… but it's difficult to share what I've experienced and I am going through. It just seems so deeply personal. I can sometimes imagine people with bad intentions reading through this site, judging every word, every post, and forming their conclusions. Or better yet, taking a screenshot of every page and sharing with their friends as a way to mock or ridicule. Putting some or all of your business out to the world leaves you vulnerable, and what we're sharing here is personal. I do not claim to be an expert in infertility, pcos cures, homeopathy, nor do I know all of the ins and outs of a pregnancy with multiples. You will find very few scientific and research based references here, too. That's not what we intended to do. Yes, as a professional, my background may have a little more insight. Yes, I have read countless articles and blogs. And yes, we did complete some homeopathic work… but getting into that on this site would involve a level of research and care that goes beyond our intentions for this page.



But, what is most difficult for me, is while I write these postings, I have friends and acquaintances that are still in the trenches. They were either ahead of me, starting their journey long before I did. Or behind me, starting after. Some have given up. Some have taken breaks. Some haven't begun yet. And some are still hiding behind their situation. I did take some time out to share with a few who I knew were in the trenches at some point when I was. And I cried as I told my story because I knew they were still fighting. How do you tell someone who you know has struggled that this wonderful miracle happened to you? I couldn't keep it from them, because in my mind, it is a slap in the face to find out by hear say. So I shared from the direct source, me. But it hurt. No two stories are alike they say. However, I wish several stories could end with happy endings. I've been on the other side of that news before. Many times. I've sat in on baby showers and kept a smile on my face. Afterall, I was genuinely happy for whoever the mother and father was. Never would I ever feel envy or hate towards them and their blessing. Some of the stories were true inspirations to David and I and we held on to the promise that God had for us. Yet here I was, excited about my story, but hurting to share it with a few.



Maybe this blog will be enough to encourage someone to keep going, or to tell a friend how sorry I am. And that I'm praying for them, and still holding their hand through their journey, just as they held mine. Or maybe, this blog will be enough to keep the negative readers away, so they understand just how serious this journey is or can be, and that many may or may not share because of the stigma associated with it.

Judge less, love more. A motto I need to live by more and more each day.